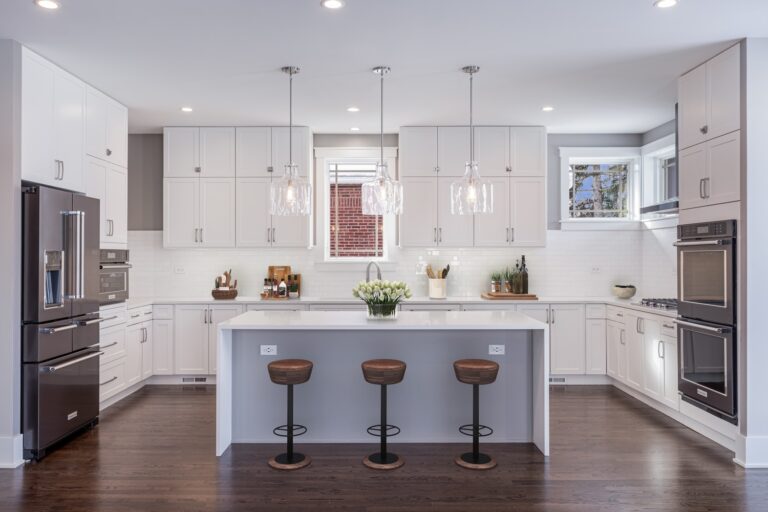 Kitchen Remodeling In Chicago, IL
We specialize in upscale construction, remodeling, and design services for residential and commercial projects.
I love working with the CB team - I refer clients who are looking to rehab a newly purchased home, build a house from the ground up, or renovate a home before selling. They even help design and offer advice on timeless yet trending finishes. They take great care of my clients from start to finish, offer fair pricing, timely service and quality work. They are the best of the best!
Are you looking to remodel your kitchen? You aren't alone, as kitchen remodels have become the single most popular renovation that homeowners make to their properties. Along with remodeling your home's , improving a commercial kitchen will also drastically improve a business's appearance.
As a centerpiece of your home or business, a stylish kitchen can transform your space and leave a lasting impression on your guests. However, remodeling a kitchen is no easy feat. Experience and expert craftsmanship are necessary qualities when choosing a general contractor for your kitchen. 
At CB Construction & Design, we have completed countless renovation projects in the Chicago area. As you can imagine, there have been many different designs and styles we have encountered. With each new remodeling project, we gather new insights into creating a kitchen our clients are proud of owning.
Finding Inspiration for Your Renovation
One of the first orders of business for your remodel is coming up with a good design idea. You can find inspiration for your kitchen in a variety of different places. Some of the best being interior design magazines, design blogs, or taking a stroll through your local home improvement store to view the displays. 
While developing your idea, you want to picture everything involved in the renovating process, such as:
The cabinetry colors and material 

The surface of the countertops 

The style of appliances 

The fixtures and accents of the space that make it unique 
While some people have a detailed picture of what they want, that is not always the case. You may not be able to quite decide what design you want, leaving you feeling stuck. Fortunately, our team of talented designers knows what it takes to come up with a beautiful kitchen design you will love.
The Costs of Remodeling a Kitchen
The costs of remodeling your kitchen will differ significantly depending on the amount of work required and the materials used for the job. For a simple guide, we will be breaking up the remodeling costs into three ballpark figures. 
Low-end – for kitchens under 100-square-feet and a choice of materials such as stock cabinets and budget-friendly appliances. The starting prices of these remodels typically starts at $20,000 but could be more or less depending on the required work. 
Mid-range – a kitchen with a space that is 200-square-feet or less with more personalized work like custom cabinetry and lighting. Included in this remodeling are the flooring and other major design components. The starting price is $45,000 in the Chicago area. 
High-end – on the most luxurious level, the high-end kitchen renovation covers kitchens 200-square-feet and larger with top quality materials. Commercial-grade equipment is used, including other more specialized renovations like task lighting and tile backsplashes. Prices can range from $80,000 or more. 
Commercial Kitchen Renovation
If you own a restaurant or a similar commercial operation, you know how important it is to be efficient. Without modern appliances and a practical kitchen layout, you may be limiting the potential of your business. 
Remodeling is not only for residential properties—as commercial kitchen renovations are also highly popular for businesses of all types. By maximizing your kitchen's efficiency, you will ensure that your business is as profitable as possible. 
We will revamp your commercial kitchen, turning it into a well-oiled machine that will focus on being spacious, resourceful, and energy-efficient. You will no longer be wasting any excess dollars on older equipment or extensive maintenance.
Frequently Asked Questions
When Should I Consider Remodeling my Kitchen?
There are a ton of reasons why you might want to renovate your kitchen. A centerpiece in gatherings and social events, it can improve the overall look of your space. Additionally, some of the most common reasons someone renovates a kitchen are: 
The cabinetry is outdated or broken.

You want to boost your home's resale value.

Upgrade the kitchen space to fit your personal style.

Your kitchen feels cramped, and you want to open up more space. 

You have an older property with an original kitchen that is decades old. 
These are just a few of the reasons when you should consider remodeling your home or business's kitchen. With our experienced and talented builders' help, we can turn any of your visions into a reality.
How Much Will a Remodel Boost my Property's Value?
With the kitchen being the heart of any property, it is one of the essential spots for prospective buyers. However, how much of an increase in value will a renovation bring? 
For a quick breakdown, the national average for an extensive high-end kitchen renovation will be around 54%. This means if you spent $100,000 on the project, you could expect to recoup an average of $54,000 on the property's value. 
If you have a low-end kitchen renovation, this percentage is typically way higher. In some cases, property owners recoup up to 81% of the money paid for the smaller-scale renovation.
Will I Be Able to Use the Kitchen During Construction?
We know that not all homeowners and business owners can afford the luxury of renting a new space or taking a vacation while the renovation is in progress. Before we finalize the contract, we will discuss ways that fit within your lifestyle for the most seamless renovation process. 
In some cases, there will be no avoiding the utilities being shut off for a brief period while we work on the renovation. But, we will develop solutions to keep you operating as close to normal as possible. 
After each day, we will also clean the worksite and ensure that it looks spotless before going home for the day. We respect all homes and businesses as if they were our own so that you can expect a clean and safe area.