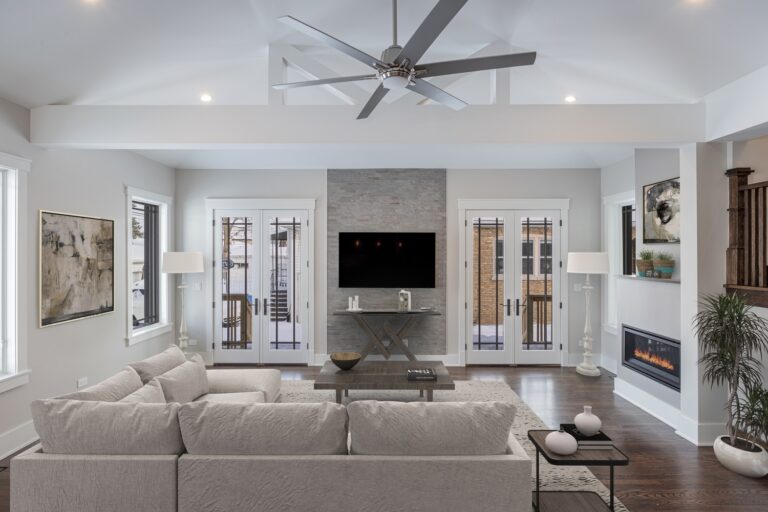 Home Remodeling In Chicago, IL
We specialize in upscale construction, remodeling, and design services for residential and commercial projects.
I love working with the CB team - I refer clients who are looking to rehab a newly purchased home, build a house from the ground up, or renovate a home before selling. They even help design and offer advice on timeless yet trending finishes. They take great care of my clients from start to finish, offer fair pricing, timely service and quality work. They are the best of the best!
Owning a beautiful house is often the dream of everybody. That's why many people spend a lot of time before deciding what type of house to buy or construct. But whether it is through buying or construction, the main objective is to always keep the house as beautiful as possible.
Nonetheless, homes tend to lose their original beauty with time. That's where home remodeling companies come in. As time goes by, you will realize that your kitchen or bathroom is getting smaller, your backyard needs to be transformed among other changes.
In other words, you always want your home to look classy and trendy. This is only possible if you hire an experienced remodeling company to help you. All you have to do is book an appointment to discuss your new home remodeling project.
CB Construction & Design was started in 1974 as a custom home builder, then began offering remodeling and construction services to both commercial and residential customers. Having been in business for 48 years, we have gained extensive experience and guarantee your satisfaction!
Why Home Remodeling Is Important​
1. Improves the value of your home
One of the major advantages of home remodeling is to increase the value of your home. The value of a home generally depreciates with time unless you perform regular maintenance. In case you decide to sell your home, the purchase price will be determined by the state of your house at that time.
After a busy day or week, the least you can do to yourself is to find a comfortable place to enjoy yourself. Although your house may not have been built the way you would have wished, you still have the power to transform it into whatever style and design you want.
You don't have to stick with everything that you found in that house you bought. Talk to a contractor and find out what kind of renovations can be made in order to give your house a new look and design.
Technology keeps transforming different sectors including housing. Leaving you home the way you found it ten or twenty years ago makes it look dull and old-fashioned. Look around and see what popular housing trends can give you a new, fresh and comfortable look and implement them.
There are many construction companies that specialize in home addition and remodeling. Carry out due diligence and determine which one can help improve your home with reasonable rates.
As much as you may not be ready to sell your Chicago home, you are likely to get offers that will make you change your mind. Buyers are always keen on modern and trendy houses and will always be on standby in case you put it up on sale. Besides, you will not have a hard time when you decide to list your house for sale.
Homes have many components, and if you are looking to remodel your home you are probably considering your options – whether you should renovate the whole house, or only select parts. Remodeling your home is a large job, and some of the most common home renovation projects incliude:
A kitchen is one of the most used places in a home. As such, it should be designed in a way that makes it comfortable use. Most construction companies have taken advantage of technology to come up with great kitchen remodeling ideas. 
Here are a few of them:
Technology has not only improved the kitchen experience with fancy appliances and gadgets. Nowadays it is easy to integrate your kitchen with almost every function in your kitchen with the latest technology from lighting to fridges.  We offer state of the art kitchen appliances and devices to help transform your traditional kitchen into a smart kitchen at an affordable price.
Basements are often the center of sleepovers, movies, and social gatherings. A nice basement is very desirable in Chicago, especially since COVID. Let us help you design, plan, and build the perfect basement for all of your gatherings.
We can install a man-cave, a movie theater with projector, or a full bar. Contact us today to plan your new basement ideas!
Bathrooms have one of the highest returns on investment for the whole house compared to other areas you can remodel. Everyone loves a nice beautiful bathroom with natural sunlight, granite countertops, large showers, jacuzzi bathtubs, and maybe even a fireplace if you so desire.
We have remodeled thousands of bathrooms in the Chicago area over the past 48 years of serving this beautiful city, from small half baths to full on deluxe bathroom renovations.
Landscaping can be one of the most simple and straight forward home improvement methods to add value and refresh the exterior of your home.
We recommend visiting your local garden center, as many can assist with design, free of charge. We encourage our clients to consider adding a nice focal point such as a walkway or path, and perhaps a fountain if it fits your aesthetic.
Exterior Home Improvements
There is a wide variety of exterior home improvement possibilities – adding columns, removing shutters, updating your siding or repainting. all of these are great options to add a lot of value to your home and create a new and improved look. Don't hesitate to give us a call, our expert designers and remodeling professionals are ready to re-design your home!
Deck, Patio, Porch Addition
A nice deck, patio, or porch added to your home would not only make it more enjoyable if you like being outside in the sun, but would also add a significant amount of value to your property. Summer is the best for patios, but once Chicago winter hits they aren't nearly as usable without bundling up! To discuss your options of sunrooms, porches, or patios, you can contact us anytime!
Why you should choose CB Construction & Design
It's not easy to find an established remodeling company you can trust with your home,  we pride ourselves on our reputation we have built up in Chicago and the surrounding suburbs over the past 48 years of being a trustworthy and expert remodeling and construction company. 
We have invested in state-of-the-art technology in order to offer quality construction and remodeling service to its clients. They have a highly-experienced and skilled team of architects, craftsmen, and designers who offer quality services from scratch to finish.
Whether it is a new home or an old home, our team will conduct a proper assessment and recommend the best remodeling ideas for your home. All you will need to do contact us or give us a call today at 312-725-0504.