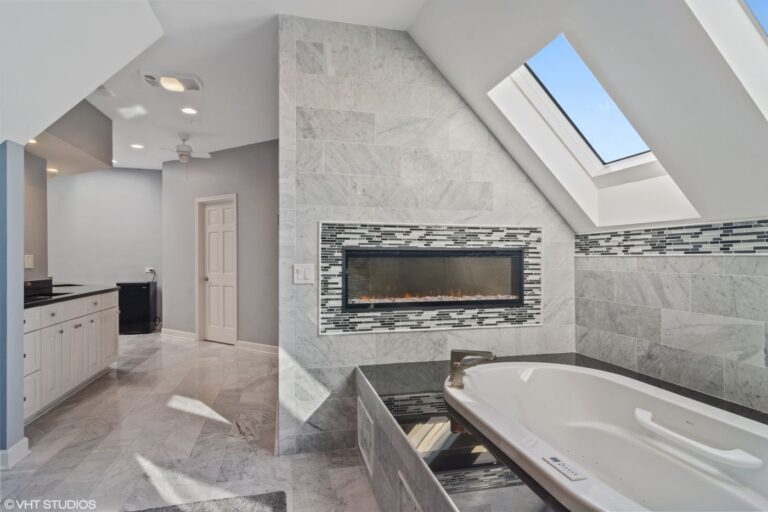 Bathroom Remodeling In Chicago, IL​
We are a general contractor that provides upscale construction, remodeling and design services for residential and commercial projects.
The amount of work that was done for the amount of money we spent was far below what we expected to pay. We both would highly recommend CB Construction and Design to anyone. They can deliver beautiful results in a timely fashion.
Bathroom Remodeling In Chicago​
If you are looking to remodel your bathroom, you have come to the right place! Renovations to your bathroom can be an excellent investment to make into your home. The added style and functionality will increase your home's value while also creating a better environment for you and your family.
Bathrooms should be a place of relaxation and privacy, with these being the principles we focus on most during our renovations at CB Construction & Design. All bathroom remodels will reflect your unique style and have the ideal amount of comfort. With years of successful remodels in the Chicago area, we have proven we can renovate bathrooms of all sizes.
Through careful planning and a team of talented builders, we bring you an unmatched remodeling experience. While working with us, you will feel confident in knowing that we can turn your bathroom remodeling dreams into a reality.  
There are three main types of bathrooms that you will find in a property. To help you understand which ones you own, here are brief descriptions of each style and what they include: 
Powder Room – Usually located on the first floor, this is a room your guests go to freshen up. A powder bathroom typically has a vanity area and toilet. These rooms are often part of the first impression that guests have of your home. So, having a nicely remodeled powder room will help you nail those first impressions. 
Guest Bathroom – Often an afterthought for many homeowners, a guest bathroom is where potential guests and visitors will go. By revamping the guest bathroom's design, you can make visitors feel welcomed and appreciated when visiting your home. Adding a tiled shower or elegant vanity are only two ideas to improve your guest bathroom. 
Master Bathroom – After a long day, a master bathroom with a bathtub can allow you to sit back and relax peacefully. Master bathrooms are a room that you will be getting ready in the morning and when you are about to rest. So, creating a peaceful environment in your master bathroom will start and end your days off right.
Bathroom Remodeling Costs
There are a ton of factors that go into the costs of remodeling a bathroom. Some of the most important are the bathroom's size, the type of materials, and your goals for the project. To give you an idea of what bathroom remodels cost in our local area, we have separated the pricing into three levels.
A minor renovation is for smaller guest bathrooms with all of the bathroom's main components staying in their original places. This lower-tier bathroom remodeling will use more budget-friendly stock materials for the cabinetry, tile, and fixtures. 
The starting price for a bathroom remodel of this level in the Chicagoland area will start anywhere between $8,000 to $11,315. However, the pricing will be more accurate once the plan is in place for the remodel.
Mid-Range Bathroom Remodel
For a larger guest bathroom or a small master bathroom, the midrange level bathroom remodels will include replacing the key pieces, like the bathtub or vanity area. We will use more customized materials for this project, ensuring that you get exactly what you pictured. 
Depending on the required labor and materials, mid-range bathroom remodels cost an average of $15,000 to $25,000. A large portion of the costs associated with the labor necessary to replace your bathroom's components.
For large bathrooms of all styles, we have upscale bathroom remodels. Featuring custom materials and increased functionality, these bathroom remodels will significantly transform your bathroom. 
The possibilities of these remodels are endless, but the typical price range will vary between $30,000 and $70,000. Much of the price is associated with bringing the best quality materials possible and added features like heated flooring or task lighting. 
Tips for Your Bathroom Renovation
As a general contractor, we know what it takes to optimize bathrooms of all sizes and get the most out of your space. Here are some tips that you can use when developing the plan for your dream bathroom. 
Choose a low maintenance flooring option like tile or vinyl for your bathroom. 

Place floor tiles diagonally to create the illusion of a larger space inside of your bathroom. 

Create the image of more open space by having a clear shower enclosure. 

Install bright LED lighting to add safety and efficiency to your bathroom. 

Keep a simple two-color scheme that avoids any overwhelming patterns.

Don't overlook ventilation and invest in a good exhaust fan system.

Protect the lower sections of your bathroom's walls with beadboard to prevent water damage from splashes. 
Frequently Asked Questions
When Should You Consider Renovating Your Bathroom?
There are numerous reasons why remodeling your bathroom would be a good idea, but how do you know when it's time to follow through? There are two different main reasons why you should renovate your bathroom. 
The first is if there are safety hazards of any type inside of the space. Things such as broken tiles, plumbing problems, or mold can all be a reason when you need to remodel. By ignoring these problems, they will continue to grow until they get too large to ignore. 
The other reason why you would remodel a bathroom is you want to transform the appearance. You may think your bathroom is too outdated or plan to sell the property and want to increase the value.
What Are The Steps of Remodeling a Bathroom?
The steps of every bathroom remodeling project will look different. However, there is a general guideline that we will follow for each project. Here are the steps: 
Discussing the project with you

Mapping out the floor plan and site plan based on the existing space 

Obtain building permits for the local area 

Demolition begins for desired renovations 

Install the new features of your bathroom 
Are You Licensed to Perform Remodeling Jobs?
As a general contractor, we have the licensing required to complete remodeling jobs in Chicago and surrounding areas. We also are licensed to work on new construction projects, being a full-service general contractor ready for all of your needs!